About Ray Khalife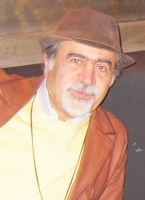 Ray Khalife, the eldest of seven siblings, was born in a small port city on the Mediterranean Sea in Byblos, Lebanon, in 1949. His father, a former monk, was unexpectedly separated from his family as an infant during their journey from Brazil to Ellis Island, New York, and he grew up in Lebanon. He passed away when Ray was only nine years old, forcing Ray to spend his youth working odd jobs to support his family.

In 1970, Ray formed "The Phoenician Theatre Group" to pursue his passion for the arts. He wrote and staged five plays in collaboration with a number of local artists including world-renown musical composer Marcel Khalife. At the age of 23, Ray locked himself in a room for a month and studied English with a dream to visit his dad's family who had settled in Ohio. He met his aunts and uncles for the first time, and began his studies at the Southern Illinois University. His dream was short-lived when he had to return to his home country due to visa's issues. Determined to attain higher education, Ray continued taking courses through correspondence and achieved degrees in Interior Design and in Business Management from Chicago's La Salle Extension University.

During the mid 1980's, Ray fled war in Lebanon on a boat to Cyprus and relocated his family to Montreal, Canada, where he spent the next seven years writing about art and its importance to society as a journalist for L'Avenir newspaper. It was not until 1990 that Ray committed himself to being a full-time artist. Since then, he has held exhibits in a number of cities throughout the world. His art can be found in diverse settings including diplomatic embassies, churches, city halls, on the cover of albums, and in the homes of a number of well-known Middle Eastern performers.

Ray now resides on the coastal City of New Bedford, Massachusetts, with his wife and four children, and enjoys views of the Atlantic Ocean rather than the Mediterranean Sea where he began his artistic journey many years ago...

In 2018 Ray moved to San Diego, California with his wife. Ray Khalife is launching, Ray's Designs. Ray's Designs is the premier provider of large interior murals both for commercial and residential spaces in the San Diego area. Ray's Designs specializes in landscape scenes.